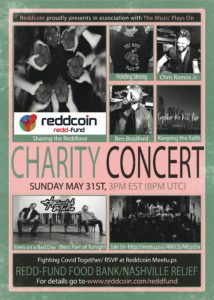 TICKET SALES – Total Seats Available – (100)
RDD Team Member – Price 0$ Seats available (10)
Access: All Included
Hall of Fame – Price 0$ – Seats available (12) — 2 are free from telegram
Access: HoF: All Included
  HoF: Notice of special role in Reddcoin; TBD special apparel
  HoF: Start 30 minutes prior to the 2 hour even
  HoF: Eligible for Game , Prizes, Rain, and Giveaways
  HoF: Free ReddID Username
VIP Ticket – Price 100$ – Seats available (20)
Access: VIP: Access to be"Viewed on  Live Stream"- 1st priority Q&A 
   VIP: Challenge Coin
  VIP: Start 30 minutes prior to the 2 hour event
  VIP: Eligible for Games, Prizes, Rain, and Giveaways 
General Admission – Price 20$ – Seats available (58)
Access: GA: Access to "Watch the Live stream"
  GA: (Use the text chat Only) 2nd priority Q&A
  GA: Eligible for Games, Prizes, Rain, and Giveaways


Event Time and Schedule
Schedule is Approved
3pm EST – 3:30pm
30 minutes meet and greet with the RDD team and the band
Reddcoin Givaway/rain in telegram
3:30pm – 4:30pm
Music time slot
4:30pm – 4:45pm
Music Break – Reddcoin Giveaway/rain in telegram
4:45pm – 5:45pm
2nd Music time slot
5:45pm – 6pm
Final Reddcoin Giveaway/rain in telegram
Closure and thank you for attending – what will be coming for our next meetup event and where to get the information for future events. Also shoutouts to Partners, people attending, and top donors of the event


NOTES

TechAdept is willing to cut his hair live on camera for every 10,000$ donated He doesn't think anyone will accept this offer.
Every $10,000 donated equals 1 inch cut.  For $100,000 donated to reddcoin, TechAdept will shave his head.